Senior Events
Last Day of School, Wednesday, May 25th
Graduation, Thursday, May 26th, 10:00am Sartain Hall (Troy University)
There will be a mandatory graduation practice on Wednesday, May 25th, at 1:00pm at Sartain Hall.
---
Final Report Cards may be picked up beginning Tuesday, May 31st.
---
Troy City Schools Summer Hours (Central Office and All Schools)
June 6 - July 21, 2016

Monday

-

Thursday

7:00 a.m. - 5:00 p.m.
July 4 - 7, 2016
Closed for the week
July 25, 2016

Resume normal hours
---
Parents, please access the link below and participate in a parent survey. Thank you for your participation.
http://www.advanc-ed.org/survey/public/4013919
---
We have attempted to take up all IPAD/Chromebook devices. If your student still has a device, please make sure they bring that device to the media center at school immediately.
All charges for damages or losses must be paid by cash or money order when you turn in your device.
---
Beginning Tuesday, May 3rd, we cannot accept checks as a form of payment for any fees for the current school year or for prior year fees. Payment for current/prior year fees must be in the form of cash or money order. Also, students may no longer charge a la carte items in the cafeteria and all cafeteria accounts must be paid in full.
---
CHHS Summer School 2016
We will be offering upcoming seniors a chance to gain a credit before the year starts. Seniors will be able to take Government and Economics on ACCESS for $200. There is a minimum number of students we will need to sign up in order for the class to make. If you are interested you should pick up a form in the main office on Monday, May the 2nd. All forms are due to the main office by Friday May the 6th. The $200 is due the day classes begin (TBA).
All students wishing to take Driver's Education during the summer will be able to do so. This course is $200 as well. There is a minimum and maximum number of slots for Driver's Education. We can only facilitate 20 students. So sign up will be a first come first serve basis. Students must have a valid permit in order to register for the class. Sign up for Driver's Education will start Friday, May the 6th at 9 am in the cafeteria. Again, this will be a first come first serve basis. Once 20 spots are taken, we will take a waiting list in case anyone backs out.
Any students that have failed a course, may sign up for Credit Recovery starting May the 2nd. All forms are due by May the 6th in the main office. Cost for Credit Recovery is $100. You must have counselor/administrative approval before being accepted to Credit Recovery.
---
A.P. Exams & ACT plus Writing Make-ups
Exam

Date

Time Length

Location

Chemistry

May 2nd (Mon.)

Sec.I 1hr 30 min

Sec.II 1hr. 45 min

JROTC

Psychology

May 2nd (Mon.)

Section I- Ihr. 30 min

Section II-50 min.

Rm 206

Eng Lit/Comp

May 4th (Wed.)

Section I- I hour

Section II- 2 hours

Rm 206

Calculus A/B

May 5th (Thurs.)

Sec. I 1hr. 45 min.

Sec. II 1hr 30 min.

Rm 206

Biology

May 9th (Mon.)

Sec. I Ihr. 30 min.

Sec. I hr. 30 min.

Rm 206
| | |
| --- | --- |
| ACT Plus Writing (May 3rd—Tuesday) | Room 206 |
---
Yearbooks are now on sale. Cost is $50. You may pay in full or set up a payment plan. See Mrs. Walden or any yearbook staff member.
Extra yearbooks on sale from the following years:
2015,2014,2013,2012,2011,2010,2009,2008,2007,2006,2004,2003,2000,1999,
1998,1996,1993,1990,1983,1973.
See Mrs. Walden in room 109 to purchase. The cost is $25.
---
For parents interested in the power point slides presented by Mrs. Wright at the Senior parent meeting, go to the Latest News section of this website and select Senior Parent Resources.
---
Any student who did not pay the $30 ipad/chromebook fee in full needs to pay the balance before school is dismissed for the Christmas break.
---
Follow us on Twitter:
Charles Henderson HS
@CHHSTrojans
---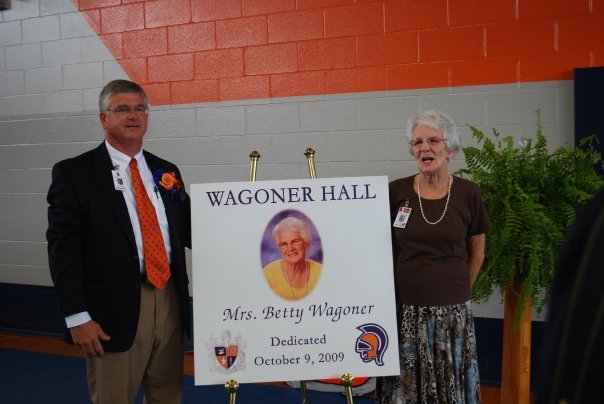 Our hearts are broken, but we celebrate the life of Mrs. Betty "Wag" Wagoner, iconic Trojan.
---
CHHS Athletic Foundation and Sports Booster Information
---
Walk Like a Trojan-Talk Like a Trojan-Act Like a Trojan
Trustworthy
Respectful
Obedient
Just
Attitude (Positive)
Necessary
Successful
---

---

**************************************
Get Schooled & Skilled On the iPad | Training ▪ Tips ▪ Tutorials
*************************************